messages : 510
pseudo : neon lights ✻ cate.
face, © : melissa benoist, you.first.
double compte : cassy, addison.
statut : in a relationship w/the bf (best friend).
métiers/études : aspiring teacher.
guilty pleasures : notebooks, mugs, documentaries.

- me and the city
carnet d'adresses:
disponibilité rp:

Sujet: headlights and papers. Sam 22 Avr - 18:56

---

dc

: Livia Cameron.

dates de l'absence

: D'aujourd'hui à samedi prochain.

motif

: Ce n'est pas une absence à proprement parler puisque je passerai quand même mais plutôt une baisse d'activité. Je pars ce soir pour Toronto jusqu'à mercredi et étant donné qu'il s'agit aussi de ma dernière semaine d'université j'ai des travaux à terminer, le bal, et des amies qui repartent avec lesquelles je vais essayer de passer le plus de temps possible

. Je vous souhaite donc une bonne semaine à tous et on se revoit bientôt.

_________________

"

I know you're seeing black and white so I'll paint you a clear blue sky, without you I am colour-blind. "


messages : 628
pseudo : BLINDNESS, manon
face, © : avan jogia, av/kidd, sign/gw, gif/skairipa
double compte : alicja, aaron, juliet
âge : almost thirty even though he's so not ready
statut : engaged to be married soon but has another smily face in his mind
métiers/études : musician in a rockband (krea-tion), guitar player
logement : upper west side
guilty pleasures : beers every evening, bollywood movies, music, visiting nyc
bucket list : tell the agent to fuck off, get married for real, buy more beers, win the next mtv awards, invite maebh to have dinner sometime, stop listening to people --

- me and the city
carnet d'adresses:
disponibilité rp:

ask - maebh, jed, krea-tion ; tc fête de la musique

Sujet: Re: headlights and papers. Sam 22 Avr - 19:01

---

toronto
profite bien

_________________

across the street, i felt in love with you. (again) #fosterbidule
☸ just a lonely star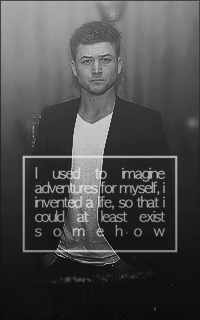 messages : 163
pseudo : vespertine (nawal)
face, © : taron egerton, ©Eilera, which witch
double compte : jed, lew, nee, remi.
âge : 27
statut : single
métiers/études : daddy's boy, street fighter for the thrill.
logement : upper east side, at daddy's expense.
guilty pleasures : street fights, instagram, annoy his "family", flirting, singing.
bucket list : find ways to make dad crazy - buy cigarettes and books - check on stepdad.

- me and the city
carnet d'adresses:
disponibilité rp:

alicja, saskia, andy (open)

Sujet: Re: headlights and papers. Sam 22 Avr - 19:12

---

profite bien et bon courage pour tes travaux

_________________

never know what it's like to be the life of the party

all these people are passed out on the floor in my hotel room, I don't know half of them but they all wanna know me ✻  somewhere in between who I used to be and who I'll be tomorrow when the champagne blows my mind. thrills don't come for free, the price you pay for dreams. in a sea of strangers, I can't find me anymore. (all time low, life of the party)
Contenu sponsorisé

Sujet: Re: headlights and papers.

---